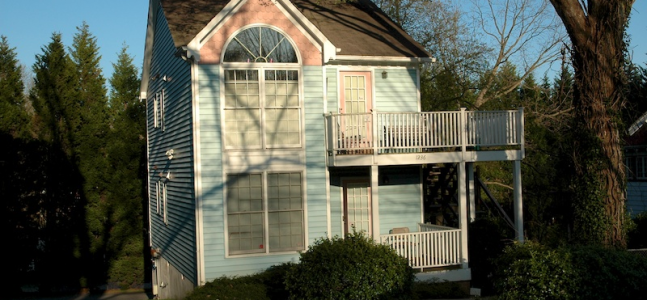 Possible Availability : July 1, 2019 -

1 -

1
$635/mo
Open and contemporary floor plan with angled bar separating kitchen area from open living/dining area. Lots of windows and light. Hardwood floors, Italian Tile, Euro style cabinets and private sun deck make this a very desirable and upscale place to live. Located 4 blocks from the YMCA, 5 blocks from BGSM/Baptist Hospital and 1 block from neighborhood restaurants and coffee shops. Located in area very popular with Med students and young professionals. This truly is a cool and classy cottage style apartment. Only one other apartment shares this cottage, and it has been rented by the same young professional for years. Dishwasher, washer/dryer connections, central air, off-street parking, security system and, as mentioned before, a nice big private sundeck for outdoor living. There is also a ground level storage area for your bike and skis.
NOTE: We do not rent to undergraduate students or anyone with a credit score below 700 (if you are a graduate student a parent with a credit score over 700 can co-sign to qualify you if you have not yet established your own credit). This is a NON-SMOKING apartment.
For more info or to see the apartment CALL or TEXT Steve Harris, at 336-816-4484 or Linda Robertson 336-816-0673. Emails or hitting "reply" to this listing will NOT get you as quick a response as calling or texting.
Location