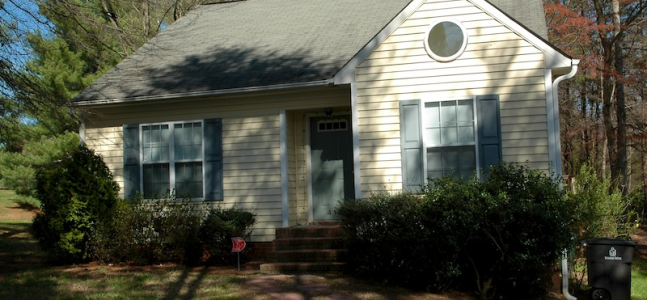 Possible Availability July 1, 2021 -

3 -

2
$1120/mo
NO THIS COTTAGE IS NOT LOCATED AT THE BEACH: IT IS RIGHT HERE IN WINSTON-SALEM. WHY IS THIS COTTAGE "CLASSY"? Granite counter tops, hardwood and Italian Tile floors, vaulted ceiling, open floor plan similar to a beach house layout with living and dining combined and separated from kitchen by a large peninsula island for bar stools. Large 20′ deck for outdoor living etc. Security System. It also has a convenient in-town location approx 3 1/2 miles FROM MEDICAL SCHOOL OR WFU MAIN CAMPUS in a quiet neighborhood several blocks off Country Club Road.
Professional lawn maintenance included. My company takes care of cleaning gutters and other maintenance issues, so you'll have the privacy of a single family home with the hassle free living of an apartment because someone else will be taking care of your maintenance needs.
Washer/dryer connections inside with a professionally-installed security system.